Montez Press
–
Interjection Calendar 004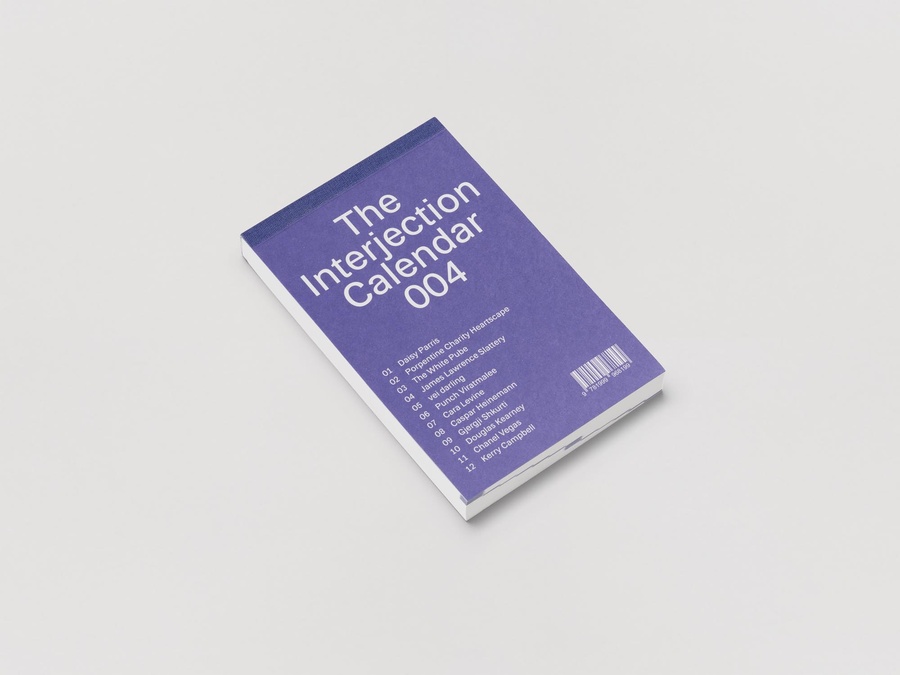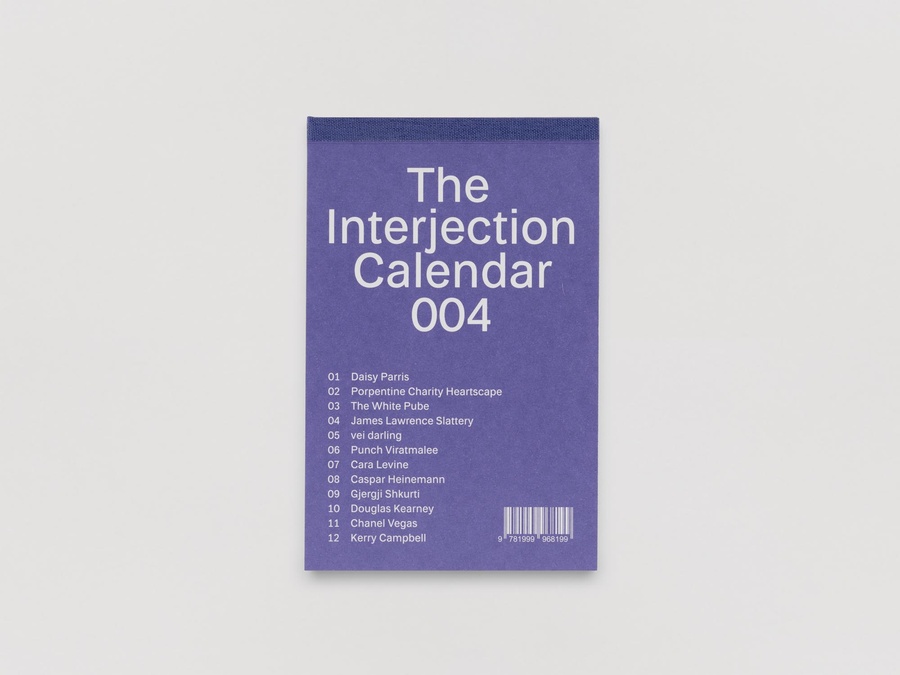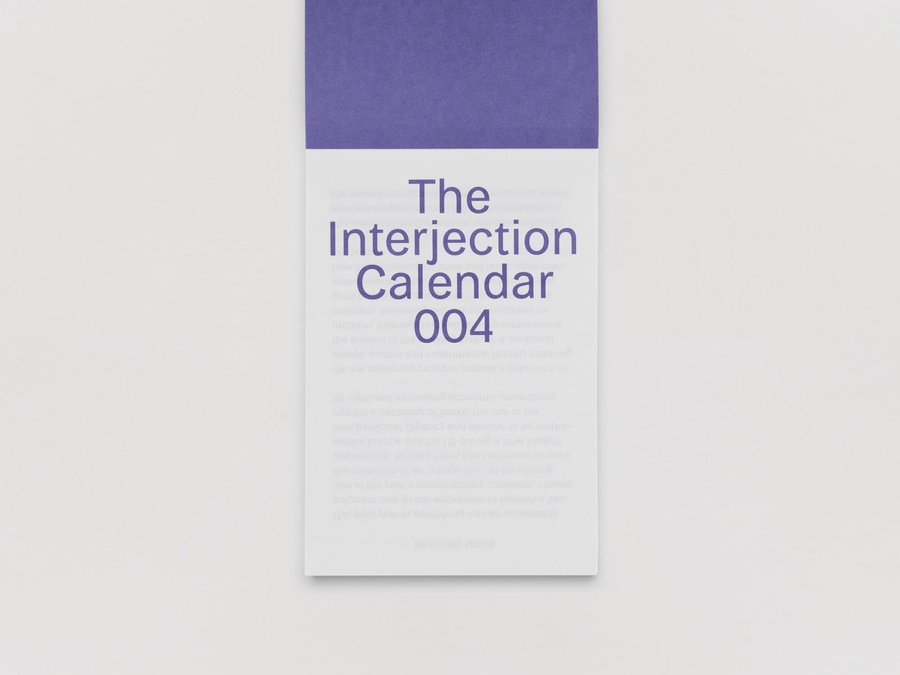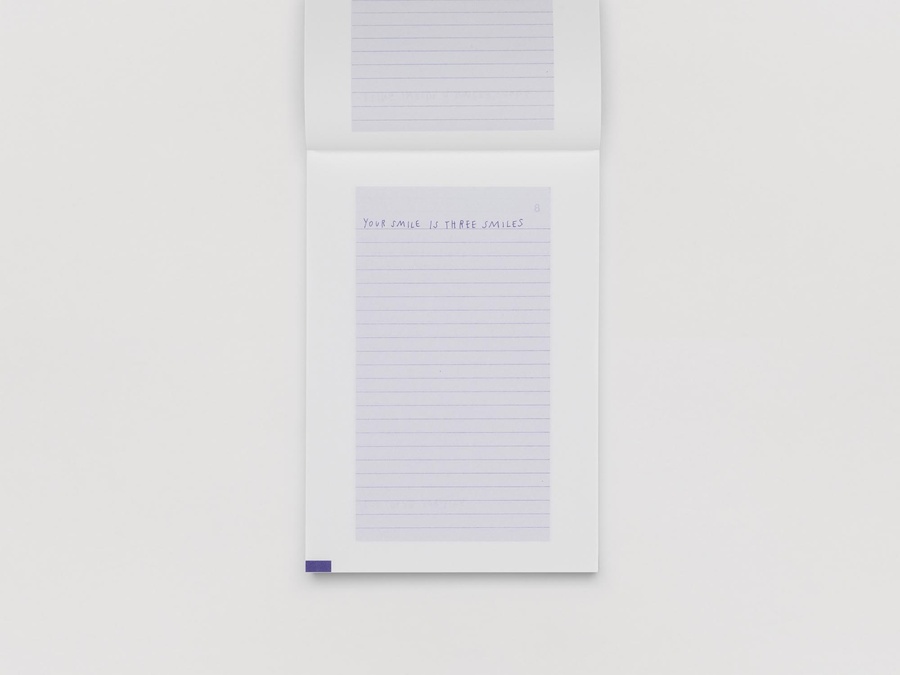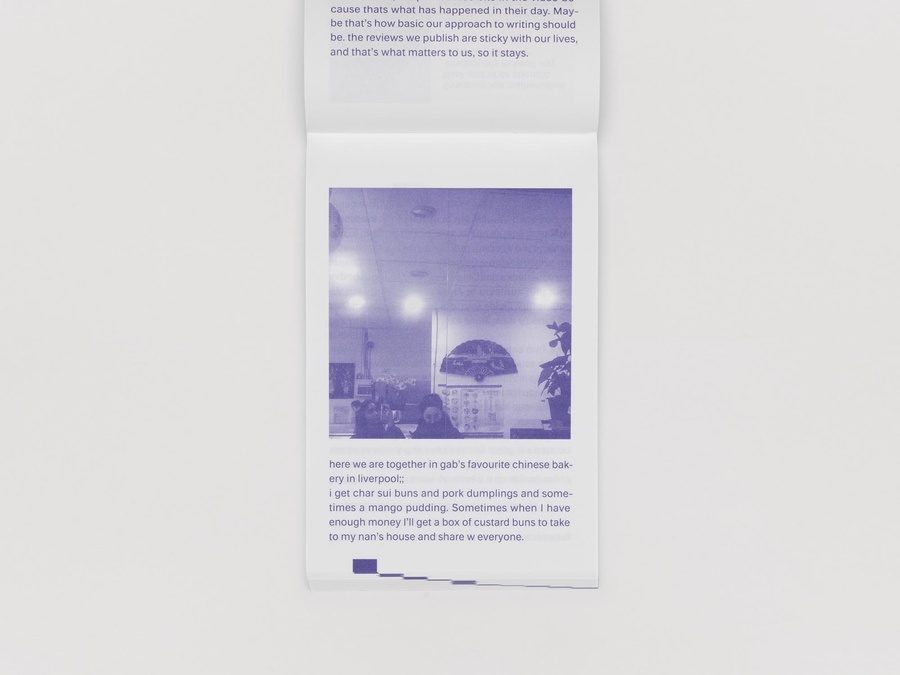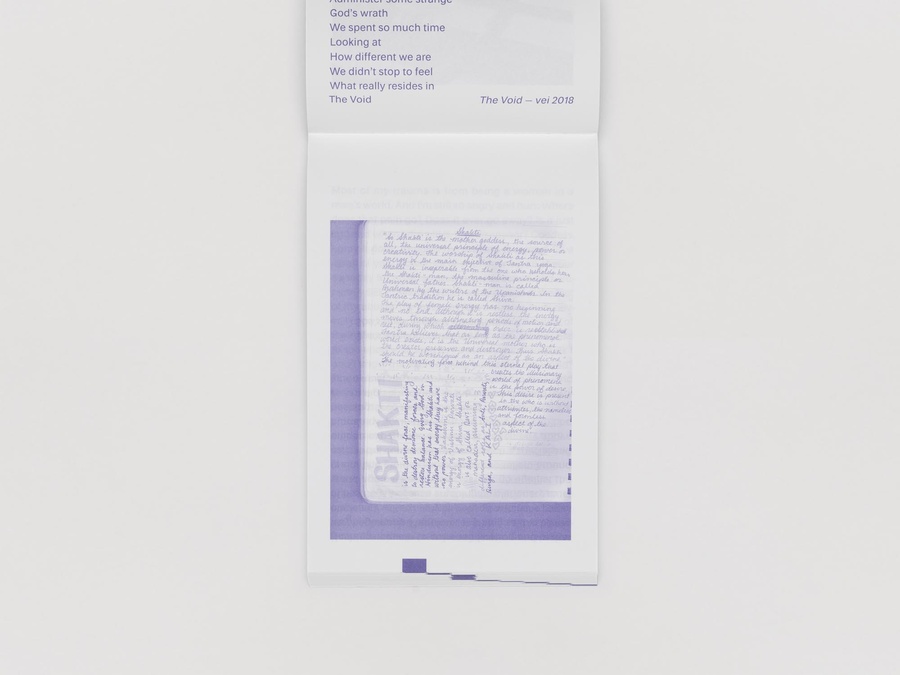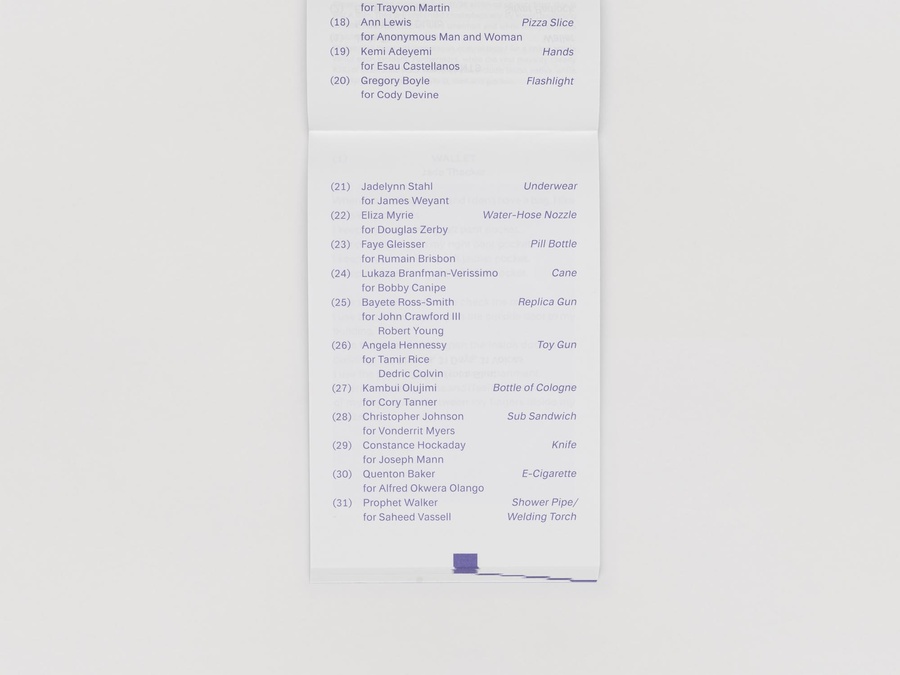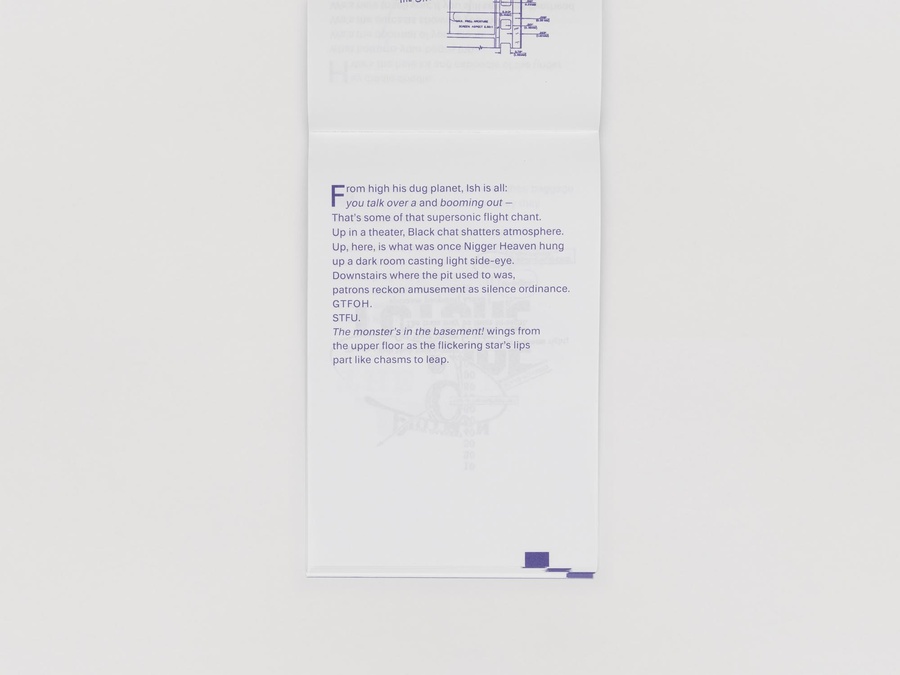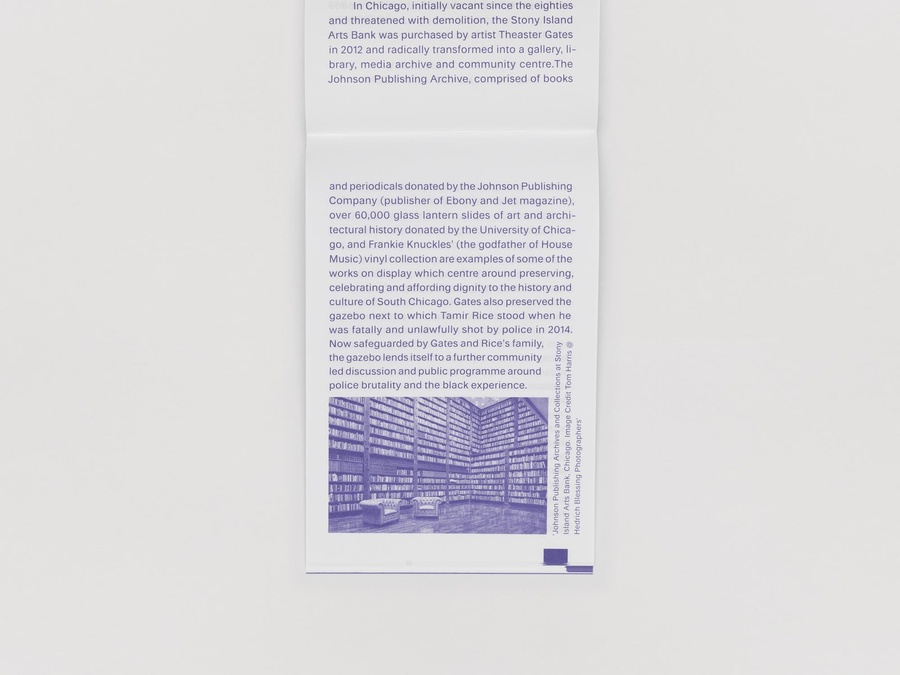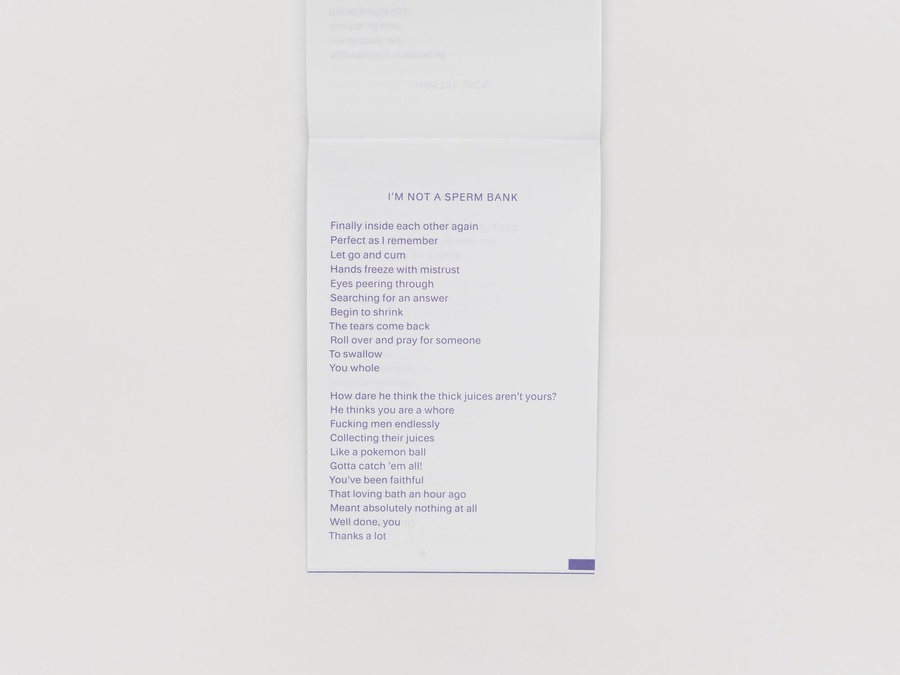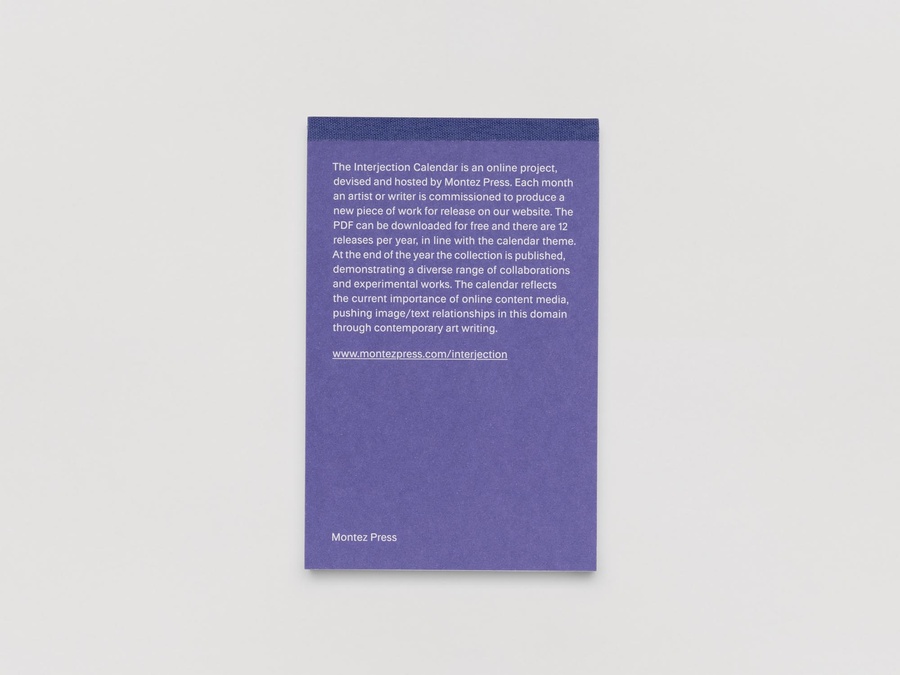 The Interjection Calendar is an on and offline project, devised and hosted by Montez Press. Each month an artist or writer is commissioned to produce a new piece of work for release on our website. The PDF can be downloaded for free and there are 12 releases per year. At the end of the year the collection is published, demonstrating a diverse range of collaborations and experimental works, mapping the year in contemporary art writing, with equal space held for the emerging and the established. The Calendar reflects the current importance of online content media, pushing the relationship between image and text in this domain.
Contributors:

Kerry Campbell is a freelance curator and producer. She currently works as the Public Programmes Curator for Bloc Projects gallery (Sheffield) and is the founder and curator of TMT Projects - a contemporary arts platform based in Luton Town.

vei darling is a first generation Liberian-American multidisciplinary artist and activist, who grew up in the D(M)V. vei moved to New York City when she was 17, and began an intense path of spiritual reconfiguration. vei positions herself within social justice and humanitarianism, whilst being infused with magick and spirituality. Her ultimate desire is to subvert the current paradigm in lieu of one that respects and reflects life, love, and the pursuit of happiness.

Caspar Heinemann is a writer, artist and poet. Their interests include critical occultism, gay biosemiotics and countercultural mythologies. Some of the time they teach and read things at institutions, a lot of the time they cook potatoes in different shapes and listen to Alan Watts lectures. They were born in London, UK, roughly 2.5 months after the release of Green Day's seminal album Dookie.

Douglas Kearney has published six books, most recently, Buck Studies (Fence Books, 2016), winner of the Theodore Roethke Memorial Poetry Prize, the CLMP Firecracker Award for Poetry and silver medalist for the California Book Award (Poetry). His work has been exhibited at the American Jazz Museum, Temple Contemporary, Los Angeles Contemporary Exhibitions, and The Visitor's Welcome Center (Los Angeles). He studied at Howard University, Cave Canem, and California Institute of the Arts. Raised in Altadena, CA, he lives with his family just west of Minneapolis and teaches Creative Writing at the University of Minnesota–Twin Cities. Douglaskearney.com

Cara Levine - with: Khadija Tarver, Christine Wong Yap, Eliza Myrie, Greg Boyle, Rodney Lu- cas, Lukaza Branfman-Verissimo, Ashley Stull Meyers, Sidony O'neal, Kambui Olujimi Jadelynn Stahl, Amanda Eicher, Jessica Angima, Faye Gleisser, Quenton Baker, Sam Aranke, Jade Thacker, Ekaette Ekong, Christopher Johnson, Marvin K White, Kemi Adeyemi, Constance Hockaday, Kate Johnson, Bayete Ross-Smith, Leila Weefur, Kirat Randhawa, Angela Hennessy, Elizabeth Dorbad, Prophet Walker, Shamell Bell, Emilia Shaffer-Del Valle and Ann Lewis. Cara Levine lives in Los Angeles, CA and is an artist exploring the intersections of the physical, metaphysical, traumatic and illusionary through sculpture, video and socially engaged practice.

Daisy Parris was born in Kent, 1993, and graduated from Goldsmiths in 2014. She currently lives and works in South London. Daisy Parris' work raises questions about identity politics as well as the limits of what it means to be human. By using various formats such as portraiture, roomscapes and text, Parris focuses on identity struggles as well as the worry, guilt, numbness and the violent encounters of everyday existence.

Porpentine Charity Heartscape is a writer, game designer, and dead swamp milf in Oakland. Her work includes xeno-femme sci /fantasy, cursed video games, and globe-spanning sentient slime molds. She has exhibited at the 2017 Whitney Biennial, EMP Museum, and the National Gallery of Denmark, and has been commissioned by Vice and Rhizome.

James Lawrence Slattery is an artist, critic and academic living and working in London. They hold an undergraduate degree in Fine Art from Goldsmiths, University of London and a masters in Film Aesthetics from St Anne's College, University of Oxford.

Gjergji Shkurti is a New York based author. His writing explores architecture as fiction and incorporates a filmic imagination. The writing stems from a yearning to push history forward.

Chanel Vegas is an artist who works in London. She writes poetry, makes paintings, and regularly performs as part of her work. Chanel graduated from Goldsmiths in 2017 and was the first student to be the recipient of the university's Artist Award.

Punch Viratmalee currently lives and works in Bangkok, Thailand. Viratmalee graduated Chulalongkorn University in 2015 with a BA in Communication Design. She previously worked at a commercial gallery in Bangkok and is now working as a curatorial assistant for the first Thailand Biennale. She also writes.

The White Pube is the collaborative identity of Zarina Muhammad and Gabrielle de la Puente under which they write criticism an occasionally curate. The White Pube is based at thewhitepube. com and on Twitter and Instagram as @thewhitepube.
ISBN 978-1-9999681-9-9
Year: 2019
Format: 100 × 155 mm
Binding:
Pages: 428
Price: £ 10.00